Calculation power: Six ways tools, calculators and their engines boost your customer engagement
White Paper
Posted In: gbst digital
Published: 03/07/2019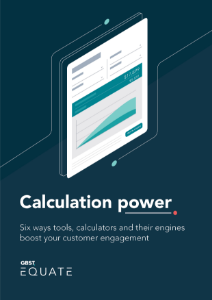 Are you harnessing calculation power?
Online interactive financial tools, calculators and data visualisations can generate higher quality leads and support customers to make more informed financial decisions.
As banking and finance become increasingly digital and consumers seek personalised solutions, intuitive and tailored 'what if' tools are a successful way to attract website visitors and offer an opportunity to promote your USP.
Our new whitepaper highlights six creative and exciting ways to use financial calculators and their powerful engines to enhance your digital experience – APIs, chatbots, mega tools and more!
Download the whitepaper