Engaging financial tools
Our calculators, scenario modellers and 'what if' tools help you stand out in a complex and crowded market where customers demand great digital experiences. Bring your products to life and drive prospects from researching to taking action, generating sales-ready leads and building trust to increase conversions.
Calculators can also empower customers with self-serve options, improving engagement and reducing operational costs by connecting to your back office systems.
Built by our team of user experience and financial experts, our calculators can be used on your website, in apps or in private portals. Get started quickly with our off the shelf tools or work with us to create a custom solution powered by our engine or APIs.
Latest technology and compliance standards
Skip the hassle of building your own calculators and rely on our leading technology and ongoing updates:
Built on the best technology – no plug-ins, fully accessible and mobile friendly
Fast to load – hosted in the cloud on our Amazon Web Services platform
Up to date with legislation – State and Federal legislation updates included in licence fee
Compliant – adheres to Australian Securities and Investments Commission (ASIC) calculator guidelines
Accessible – AA compliance to WCAG 2.1 accessibility standards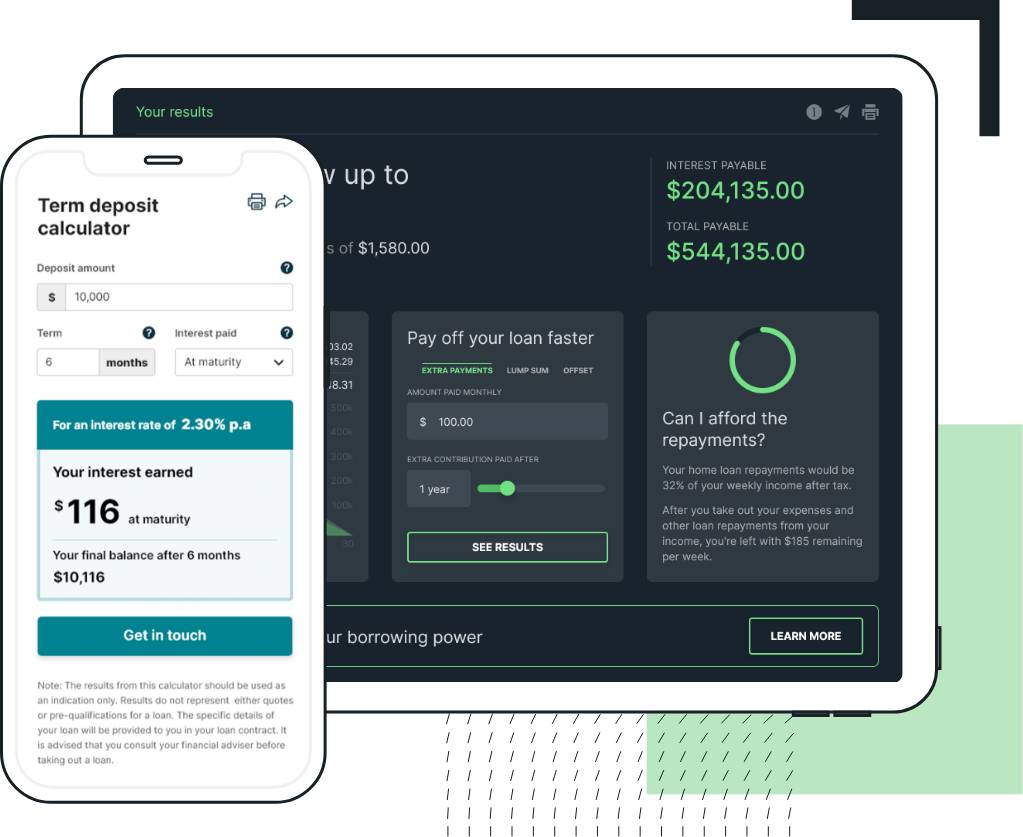 Custom solutions unique to you
With our expertise in user experience design and building complex financial calculators and tools, we can work with you to build a calculator that fits your requirements. Tailor an off the shelf solution or we can build something from scratch with your own logic or user interface.
You can also choose to plug into our powerful calculator engine through APIs – ideal if you want to build your own user interface, integrate with an existing system or use calculations in business processes.
Off the shelf calculators
Our tried and tested off the shelf tools are ready to go when you are. We offer a range of calculators within the lending, wealth management and insurance space.
We set your calculator to match your branding. Then it can be displayed on your website with just a simple copy and paste of code.
Hosting, maintenance and support of the calculators is included in your licence fee.
"GBST really understood our vision and the combination of their financial, technology and user experience expertise helped us get the best possible solution. It's a fantastic lead generator on our website – visitors that use the calculator are more than twice as likely to submit an application."
Nathan Walsh
Co-Founder and CEO,
Athena