GBST named top 100 global fintech company in 2016 IDC Financial Insights Fintech Rankings
Posted in:
Published: 24/10/2016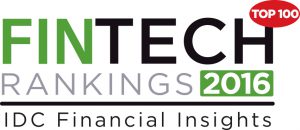 Sydney, 24 October 2016 – GBST (ASX: GBT), the wealth management and broking technology specialist, has been named one of the top 100 global financial technology companies in the 2016 by IDC Financial Insights.
The annual IDC Financial Insights FinTech Rankings includes companies that derive more than one-third of their revenue from financial institutions and is the most comprehensive vendor ranking within the global financial services industry. Now in its 13th year, the rankings categorize and evaluate the top global providers of financial technology based on calendar year revenues from financial institutions for hardware, software and/or services.
Robert DeDominicis, CEO of GBST, commented: "We are proud to be recognised as a leading Australian financial technology company and over the past 5 years our business has grown steadily as we have expanded globally. We are continually building on our reputation as a specialist supplier of high quality, robust administration and transaction processing solutions for the wealth management and capital markets industries.
The reliability, flexibility and scalability of our products underpins our product leadership and that is made possible by our experienced and dedicated team, who provide an unmatched quality of service for our clients."
Karen Massey, senior analyst at IDC Financial Insights, added: "Being positioned on the IDC Financial Insights FinTech Rankings demonstrates a fintech company's commitment to the financial services industry and the success achieved at their financial institution clients. The IDC Financial Insights FinTech Rankings, now in its 13th year, is the global industry standard who's who of financial services technology providers and we congratulate the 2016 winners."
For more information about the rankings, visit http://www.idc.com/prodserv/insights/financial/ps/fintech/index.html. Follow on Twitter via @IDC and #FinTechRankings.
Contact: Robert De Dominicis, Managing Director of GBST is quoted in this press release. For further questions, please email media@gbst.com