As

GBST

begins a brand-new chapter,

here is

a

behind-the-scenes

look

at

our rebranding process from the Head of Marketing & Communications, Dana Danieli

.

Some background. Our business is evolving. 
For many organisations the last few years have been filled with uncertainty. If you know our story – we were no exception. Global pandemic aside, our organisation changed hands not once, but twice! 
While the details were being worked out by the corporate team, the development team got busy quietly working towards the kind of innovation that is only possible when there is time and freedom to let your brain stretch to tackle the new and complex. 
So, when the sun came out in 2022, GBST emerged different. Not only did we have investors that believed in us and our vision for the future of wealth innovation, but we also had a transformed Composer wealth management administration platform. We were ready to head out into the world with a shiny new tech stack and a reinvigorated team that meant business! 
Why we rebranded? It's been a journey. 
GBST has been on a journey. We've been in the financial services market a long time and our identity, messaging, and values were unclear and left open to interpretation. Oftentimes, the wrong interpretation. And we get it – we've been around for four decades with a suite of solutions supporting different clients with different problems, all over the world.  
In fact, so much had changed on our end, that we felt that our identity and brand had to evolve to help market perception catch up, and better meet the expectations of our clients, and ourselves. 
It was time to develop a definitive answer to the question: "What does GBST really stand for?"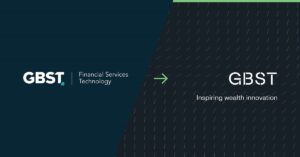 The process. Tell our story better. 
We applied the same meticulous attention and detail to our branding as we do to everything else. We knew that this rebrand had to be more than a facelift – it needed to reflect how we behave and how we deliver our commitment to our GBST team and to society – so we spent the past few months really looking at ourselves from the inside out, to find what makes us tick and what we are here for. 
We opened ourselves to the process of finding our essence. For the record, we create technology to enable, support and scale wealth management organisations globally. 
Our promise (and tagline) is to be a beacon in the industry, inspiring wealth innovation. This promise is a point of unity across the entire GBST team and instils confidence, positivity, and futuristic thinking. 
We knew we needed a fresher, more contemporary look and feel to match our updated brand strategy and modern tech stack, but the biggest consideration was our name. While we were proud of our GBST name and the legacy it held, we weren't sure if it was the right fit to move forward with … or even what it definitively stood for! 
We genuinely considered the opportunity for a new name to tell our story better, but in the end, unanimously decided to keep our name and build a better story that reflects who we are on the inside.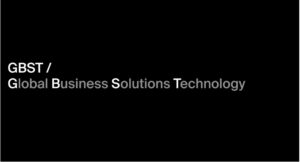 Visual identity. Look the part. 
The refreshed GBST visual brand was created to be more modern, connect with our clients, and position GBST as the technology leader in the industry that we are.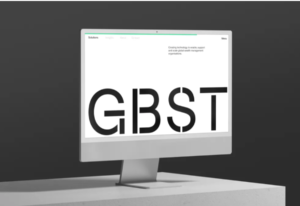 Logo 
A cutting-edge, evolution of the old GBST logo and brand, the new identity showcases a sleek geometric design with clean lines, bold blocks and confident formations that visually communicate the brand's strengths of stability, reliability, and innovation. Representing its solutions, this memorable and versatile identity stands out as a modern symbol of GBST's commitment to innovation and excellence both now and into the future.
Colours 
Our brand colours are designed to stand out, expanding our palette away from the traditional "financial services range of blues" to help us proudly carry our identity across platforms and channels.  

Product logos 
Our product logos are designed to use a shape device to create individual lockups for each naming convention, creating a clear connection between all GBST solutions, and the GBST logo itself. It is a future proof design that can accommodate a growing list of solutions.  

Employer brand. GBST & U. 
Our people are the reason for our success, and we knew from our strategy work that Team GBST value our purpose and how we give back to our communities. So we developed unique brand elements to unite the team and drive home our mantra – 
Growing Better, Stronger Together 
Growing Better is our commitment to keep moving forward and learning. Adapting as the world around us changes, growing our ideas for a better future and creating technology that puts our customers first. Because when our customers grow and succeed, we do too.  
Stronger Together because individually we achieve, but together we can do so much more. Stronger together means our global teams united in transforming talk into action and plans into results.  
And the merch. Branded merchandise always helps to unite and put smiles on faces!

We're not the GBST you might think you know. Take a Look. 
This entire process has given us a reason to face each day energised. Our team can clearly articulate who we are and what we stand for now, and our visual identity is one we can all be proud of. 
This is the finest motivation to keep on inspiring wealth innovation.  
We have just begun! 
Thank you. We mean it. 
An enormous thanks to the entire GBST rebrand team from Marketing and Digital, and our external partners who have helped to make this launch a success. 
Our brand refresh is now live – and we hope you like it as much as we do! Take a Look. 
Posted in: Wealth Management Administration